Installation Instructions
To install one of these custom portraits simply download the zip files from this page and extract them into your Neverwinter Nights 'Portraits' directory. This will probably be C:\NeverwinterNights\NWN\portraits\.
Once the five .tga files within each zip file are all in this directory you will be able to choose them in-game.
Please be respectful and only use the Public Portraits or the standard NWN portraits for your own character. The Private Portraits are for specific characters only. Note that you will need to download the Private Portraits and place the 5 .tga files in your portraits directory to see the other players' custom portraits. If you do not have their custom portrait you will just see the 'default' portrait:

More information is available here.
Download ALL Portraits
Public Portraits
These portraits are available for anyone to use as they choose
Download ALL Public Portraits
Private Portraits
These portraits can only be used by the characters they were designed for. However you are encouraged to download and install them so that you can see their custom portrait.
Download ALL Private Portraits
Click here for Aralars' Custom Portraits!
Submit your custom portrait here!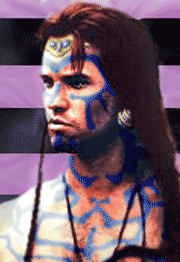 Poll
Shoutbox

· Bjehsus: woot, just installed NWN finally thx again, andrew · Lord dEath: So I see. Welcome back · SGorman: Weee're BAACK! · DM Perseus: Well, Sera, all you have to do is click on the link to Aralars site...which for some reason redirects you to Genmay, hmmm..... · Seraphine: Can someone send me Sera's portrait, please i cna't seem to find it on the site listed for sarah portraits =/ · Kelburt: I keep wondering if I should install NWN on my new PC... I'm still addicted to WoW though. · JimmyJones: Remember........ there are not many who are to be all that there is in being. · MoRiA: Nothing stopping someone oiling a bow if they want to though, I guess.... · AcidKat: you dont need to oil bows · TreePlanter: *sits on the bank oiling his bow awaiting a hunting party* · MoRiA: Yeah, old but better than the thing we had before. I like to know my way around the site's code which I can only do when I write it all myself · Guyturf: Love the new (old?) look...! · MoRiA: Yayyyy for shoutbox! · MoRiA: That poll is screwed. You shouldn't be able to post fifty times per IP.. :p · SwordRaven: hah, look who has returned to herd the sheep into depravity and violence! · MoRiA: Shame I won't know you then.. · EDGX: Hello, DCX. I am an old player, from Vintons. Great to see things are better than ever. · MoRiA: Zeh has now been unbanned, "pending further contact from Uriel". And yes, it is rather depressing. Most of the players can be found elsewhere, though · Llewen: ugh, checking out Aralar's custom portraits makes me realize how many players have left DCX... · Llewen: what? Zehave was banned? Where? · MoRiA: *yawn* Someone unban Zehave already. His banning is totally unnecessary · Balrithor: I do. If it's not correct, then it's Wrong · MoRiA: Assassin isn't a very common class, and people don't seem to like pointing out errors :p · Balrithor: *shrug* I noticed it first, even though you had a 5 month or so headstart · MoRiA: So you've proved Rational wrong, not me · Balrithor: Ha! Proved you wrong! There IS a mistake there somewhere! · MoRiA: It makes perfect sense Rational wrote it anyway · Balrithor: You've got a mistake with the class referances. In the Assassins bit, you've put down Uncanny dodge bonuses as per NWN, but also noted that it doesn't work against traps · Balrithor: Horizontal rules aren't allowed either... · MoRiA: Journal slashes problem fixed

---

Shoutbox Archives..